C.A.V.E. GALLERY PRESENTS
OPENING RECEPTION:
SATURDAY, JULY 8TH * 6:30 – 930PM
Artist will be in attendance – Kid Acne flew out for the show and created a killer install in the gallery – come by and say hello!

ARTWORK GIVE-AWAYS TO THE FIRST 20 PEOPLE THRU THE DOOR!
WE WILL BE GIVING AWAY FREE ORIGINAL ARTWORK – BY KID ACNE TO THE FIRST 20 GUESTS THRU THE DOORS AT THE OPENING RECEPTION.
PLUS MUSIC BY DJ BU$R1D3R & BEVERAGES BY THE LOCAL VENICE DUCK BREWERY
on view through August 5

C.A.V.E. Gallery is pleased to present "Mark My Words" – the solo exhibition by Kid Acne.
Kid Acne is a UK artist, illustrator, print-maker and MC.
His formative years were spent writing graffiti, self-publishing fanzines and recording experimental hip-hop – designing and printing the record sleeves by hand. The combination of these interests informed the development of his unique aesthetic, first documented in 1999 the seminal publisher Booth-Clibborn Editions.
Rendered in a distinct illustrative style, Kid Acne's art explores a variety of themes from colloquialisms and typography to mythology and architecture. Most notable however, are his depictions of a self-realized tribe of enigmatic female warriors known as "Stabby Women". Kid Acne's "Stabby Women" have been found watching over cities all over the world. These female warriors inhabit and peer out of unexpected public spaces, humanizing the urban edge with a sense that someone's got your back.
A stalwart of the international Street Art movement, Kid Acne has painted large-scale murals across continents and exhibited extensively over the past two decades. In 2011, The Museum in Sheffield hosted the first comprehensive retrospective of his work, attracting over 50,000 visitors.  His signature style of illustrations have furnished designs for clients such as Prada, Levis, Volkswagen, Elle, Kid Robot & Warp Records.
Kid Acne's artwork has been published in several books including:
GRAFFITI WORLD – Street Art From Five Continents / Thames & Hudson; ALL ALLURE / Gestalten; ART OF REBELLION 2 & 3 / Publikat; STREET ART NEW YORK / Prestel; NINJA TUNE – 20 Years of Beats & Pieces / Black Dog Publishing; I AM PLASTIC TOO / Kid Robot; BEHIND THE ZINES – Self-Publishing Culture / Gestalten; STREET ART – The Best Urban Art From Around The World / Michael O'Mara Books; WE OWN THE NIGHT / Rizzoli.
Kid Acne lives & works in Sheffield, England.
"MARK MY WORDS" WILL BE THE ARTISTS 4TH SOLO SHOW AT THE GALLERY.
New release of the Los Angeles Cityscape by Kid Acne!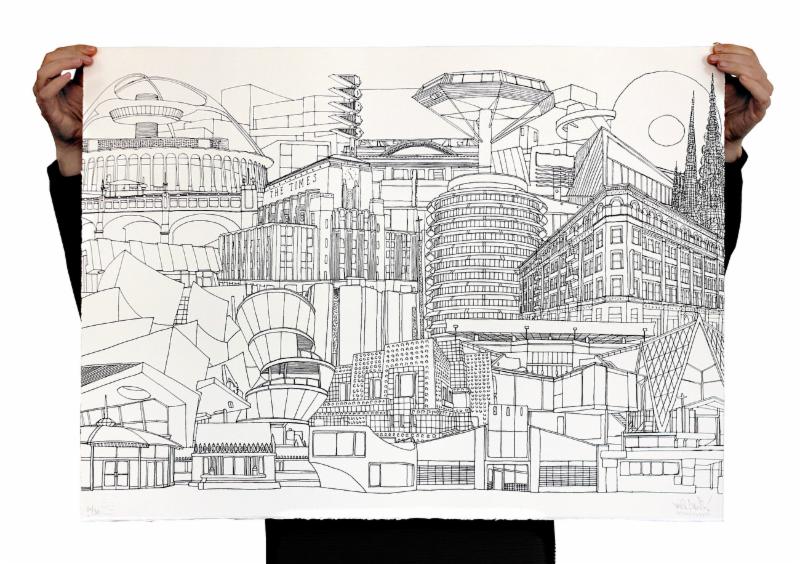 "Los Angeles City-scape"
Hand Pulled Silk Screen on Archival Paper w/ Deckle Edges
Very Limited Edition of 30! 
Signed, Stamped & Numbered by the Artists
30in x 22in (76cm x 56cm)
$250 Unframed